ABDICK Direct to Plate (DPM 2340)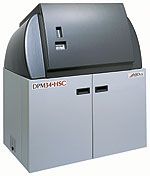 The Digital PlateMaster 2340 is an easy-to-use, high-resolution platesetter designed for use with small-format portrait presses. This affordable direct-to-plate solution features a fully integrated Harlequin®-based RIP and internal polyester plate processor.
The DPM2340 streamlines your workflow by seamlessly blending the precision and efficiency of digital platemaking with the functionality of conventional printing. Producing press-ready plates from your desktop computer eliminates many steps from the pre-press process.